BA in Public Governance with Policing Pratice
Overview
SAQA: 94122
Open distance learning is an approach which combines the principles of learner-centeredness, lifelong learning, flexibility provision, the removal of barriers to learning, accessibility to learning, the recognition of prior learning, the provision of learner support, the construction of learning programmes in the expectation that learners can succeed, e-learning and the maintenance of rigorous quality assurance.
The BA Governance Programme with Policing Practice is offered at 12 study centres (excluding exam centres) and via Bridgit.
This programme is offered on the following principles:
Students can register for either the first or second semester.
This curriculum has a minimum of three years and a maximum of 5 years to complete.
Students have 2 assessment opportunities and an examination for all modules.
(Note: COMS 121 and ALDE 122 have other requirements/portfolios)
Students do not have a second examination opportunity during the same semester that the module was failed.  If they fail the first attempt (e.g. June), they can write the failed module during the next examination opportunity (e.g. November). Only a valid participation mark will give the student access to the second opportunity. If the participation mark was insufficient, the student will have to re-register for that module in order to generate a qualifying participation mark.
Classes are presented by means of interactive white boards sessions or sessions can be downloaded from the NWU website within a week after the class was presented.
Lectures can also be followed on a personal computer, via Bridgit, if students have access to the Internet.
Students are supported by means of E-fundi, the call centre, social media, contact with lecturers via e-fundi, emails and smses via the academic manager.
Assignments are uploaded via e-fundi.
Students must ensure that they register either via Bridgit or at a study centre within their area.  The study centre will also be the exam centre, but students making use of Bridgit, must ensure that they register for an exam centre closest to home.
Admission
In addition to the general entrance requirements as specified in General Rule A.1.5, a student must have an APS of at least 25 and must qualify for degree studies.  English must be on a Level 4;
or
A student who wrote the Senior Certificate (Gr 12 prior 2008) must meet the following provisions:
have achieved an M-Score of at least 13 (with endorsement). English must be on a level E (HG) or a D (SG); or
must qualify for 23+ Age Exemption, be in the SAPS for 5 years or more, have one language on HG and must be approved by HESA (See A-rule 1.6 on RPL).  An applicant qualifies for mature age conditional exemption by virtue of being over the age of 23 years and must have passed the Senior Certificate. Such a candidate must have passed four matric subjects on Higher Grade, including English, and one language must be passed on a Higher Grade level.; or
must qualify for 23+ Age Exemption, an M-score of 12, Eng 40% on HG or SG; or
must qualify for 45+ Age Exemption and must only be in a possession of an ID; or
Applicants over the age of 45 only needs an ID and need to apply for mature age exemption at Universities South Africa (previously known as HESA); or
an applicant without matriculation exemption, but in possession of a valid National Senior Certificate or Senior Certificate, as well as a recognised three year diploma issued by a South African University, College of Education or Technikon, accredited by CHE and SAQA (120 credits), may qualify for total exemption on grounds of post-matric qualifications obtained. These module exemptions can only be recognised by the faculty.
(Note: It is the student's responsibility to reply online to Universities South Africa (USAF/HESA), and a student will only be registered if the exemption certificate is attached.)
Method of Delivery
The North-West University provides each student with the opportunity to attend contact sessions at specific NWU venues countrywide. Lecturers are available for students for extra support. Additional student support is provided by means of Learner Management system:
What is a Learner Management system
A Learner Management system supports communication between lecturers and students and creates a collaboration environment for students and researchers. Academic information such as subject content, discussion forums, important dates, additional resources and supplementary instruction are clearly advised on e-Fundi.
Programme outcomes
On completion of this programme, students should be able to:
Strategically lead and manage human, financial, physical and information resources through effective organisational relations and practices to achieve strategic goals.
Manage crime prevention by utilising specialised management skills in order to function strategically and effectively within a range of situations such as security and protection interventions as well as crowd control and management interventions.
Manage crime detection and community service centres by utilising specialised management skills in order to function strategically and effectively within a range of situations.
Manage the provision of protection, security and crime intelligence services for a safe and secure environment within the Republic of South Africa.
Manage internal quality management systems to enable the organisation to reflect on whether organisational needs have been met.
The requirements to pass a module (excluding COMS 121 and ALDE 122 – see applicable study guide):
The pass requirement with regard to the formative assessment (assignments) during the semester is 40%. If the student did not obtain this mark for the module, he will not qualify to write the examination.
The pass requirement with regard to the semester summative assessment or the written examination is also 40%. If the student did not get at least 40% for the examination, he will fail the examination even if he obtained a 50% for formative and summative assessments.
The pass requirement with regard to the overall module and final semester mark is 50%.
General  Information
The BA in Public Governance with Policing Practice programme within the Unit for Open Distance Learning (UODL) aims to provide students with the knowledge, skills and attitudes to live and work in a globally interdependent world and with the support services to help them succeed. This requires a conscious, purposeful, sustained and social-constructivist focus on the actual learning of students that may take place because of their interactions in specific study-related groups. For this reason, this academic programme also seeks to foster inclusivity and to develop a sense of personal and social responsibility and ethical conduct in and amongst our students by encouraging involvement in environmental affairs, as well as in community and public service. It endeavours to offer and cultivate a teaching-learning environment that is hospitable to diverse socio-conventional and linguistic interests.
It is essential that you read the A-Rules of the NWU in order to get more info on qualifications, applications, registration, assessment, terminations, examinations, etc. The A-Rules are included as an addendum and is also available on http://www.nwu.ac.za/sites/www.nwu.ac.za/files/files/i-governance-manage....
A student should also read the Faculty Rules for more clarity. See http://www.nwu.ac.za/yearbooks
All information wrt the BA in Public Governance with Policing Practice programme is on the website distance@nwu.ac.za
Open Distance Learning is based on the principle that a student can apply any time of the year and register for either the first or second semester according to fixed dates. The minimum duration of the programme is 3 years and the maximum duration is 5 years.
The language of tuition is English and contact sessions are conducted in English.
You need internet access and all communication wrt this programme will be on e-Fundi.  Students should also communicate with lecturers (if needed) on eFundi. See http://efundi.nwu.ac.za/portal
Please distinguish between a contact class and an examination centre.  There are 12 contact classes for this programme only and students can apply to any one of the 111 examination centres to write examinations. See website for more info http://distance.nwu.ac.za/
Module structure L301P
Module structure L302p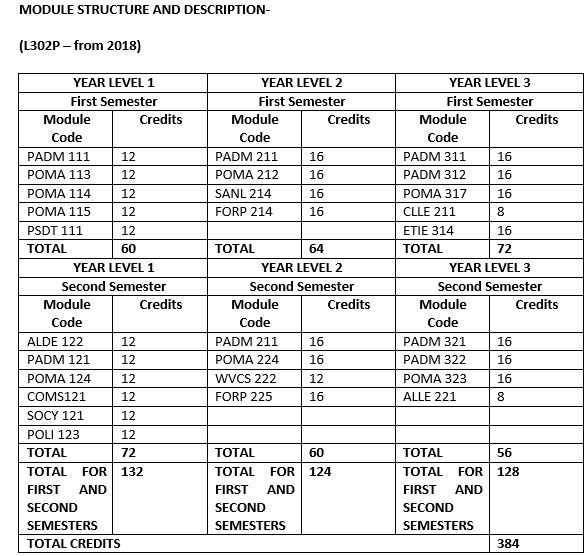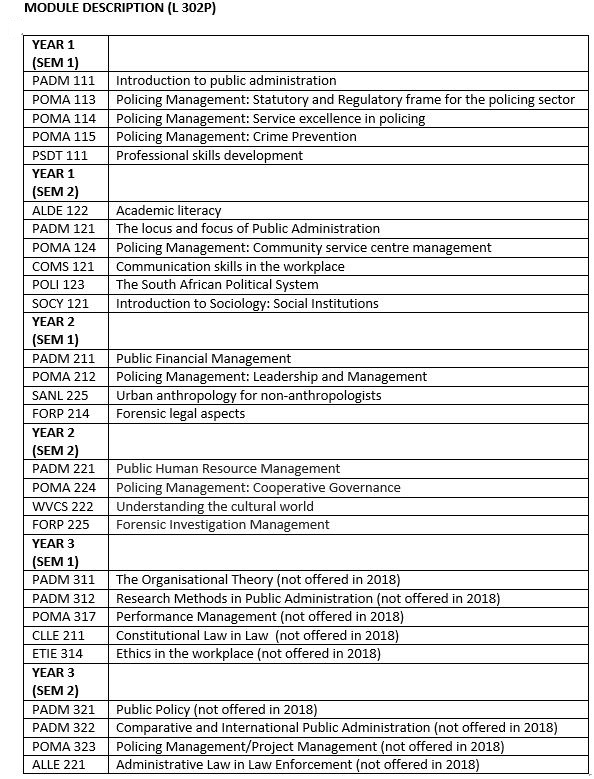 Supporting Documentation
Recognition of Prior Learning
What is RPL?
RPL refers to Recognition of Prior Learning. This means that if you gathered certain job related experience in for example crime investigation, being an investigating officer for 30 years and completing all the SAPS in-house training courses on crime investigation techniques, you are allowed to apply for recognition of prior learning in the field of crime investigation. Your knowledge will be tested and if your experience and in-house training covers or meets all the learning outcomes of the university module on crime investigation, the university might consider exempting you from registering for that module and will accredit you for that module.
Who will qualify for RPL?
The North-West University accepts the principle underlying outcome-based, source-based and life-long learning, in which considerations of articulation and mobility play an important role, and subscribes to the view that recognition of prior learning, whether acquired by formal education curricula at this or another institution or informally (by experience) is an indispensible element in deciding on admission to and awarding credits in an explicitly selected teaching-learning programme of the North-West University.
RPL procedure
Non-formal and informal prior experiential learning:
An applicant who falls outside of the formal qualifications system, but who can demonstrate (through the production of substantial and satisfactory evidence) experiential or work-based learning or non-formal qualification (or a combination), may be considered for admission and/or for the recognition of prior learning for the achievement of the qualification in part. An applicant who, after such assessment, is deemed to have sufficient potential but is in need of further academic development, will be directed to other suitable learning programmes prior to admission or to parallel programmes after admission.